Chart of the week
08 July 2022
The chart below shows you the performance of the Dow Jones going back to the 1940s. Over the coming months, you will hear a lot more market chatter about bear markets and recessions.
As you all know, markets tend to move in anticipation of future events. So, to a certain extent, several markets have already flagged a recession.
These include:
Equity – the S&P is in a bear market, defensive sectors outperforming
Bonds – yields moving lower, yield curve flattening
Commodities – oil price falling and copper price rolling
Currency – US dollar continues to outperform as a global safe haven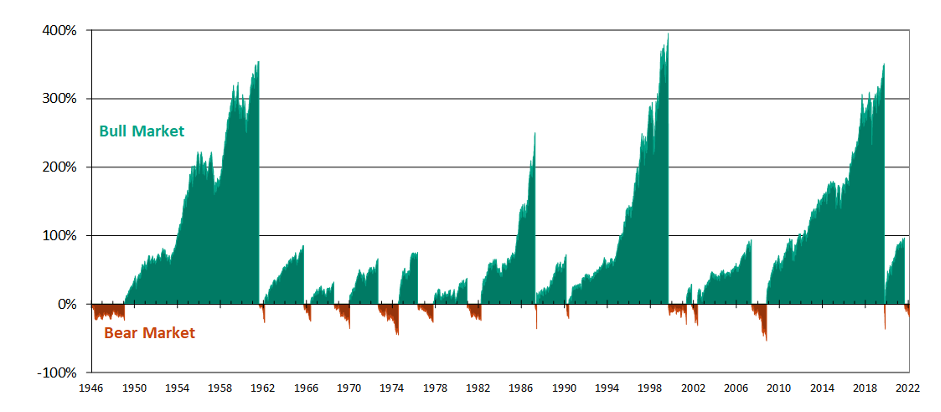 It is essential to remember that history has shown us that bear markets lead to bull markets. Bull markets also last longer than the downturns that precede them. Since 1950, the average bear market has returned -34% and lasted about 13 months, while the average bull market has returned +167% and has lasted about 3.8 years. Remember that economic downturns are a natural part of the business cycle. Still, innovation and productivity gains tend to lead to higher corporate earnings and market returns over time.
While bear markets are never comfortable, they offer an opportunity for long-term investors to add at lower prices.
Ultimately, while markets may be sending warning signals about slowing growth ahead, this may be the first step in a U-shaped bottoming process.
Takeaway: It's darkest before dawn. Bear markets are always followed by bull markets.
Market Recap:
Wednesday the 6th of July:
FTSE 100 1.17%, S&P 500 0.36%, Nasdaq 0.35%, Euro Stoxx 50 1.85%, CSI 300 (China) -1.46%.
Did you know:
BYD, the Chinese auto group backed by Warren Buffett's Berkshire Hathaway, has dethroned Elon Musk's Tesla as the world's biggest electric vehicle producer by sales, signalling China's rising dominance of the sector. Shenzhen-based BYD sold 641,000 vehicles in the first six months of the year, a more than 300% jump from the same period a year earlier, according to company filings. That compared with 564,000 vehicles sold by Tesla, which has blamed a tough second quarter on supply chain and sales disruptions in China, after lockdowns and travel restrictions hit its operations. Click here.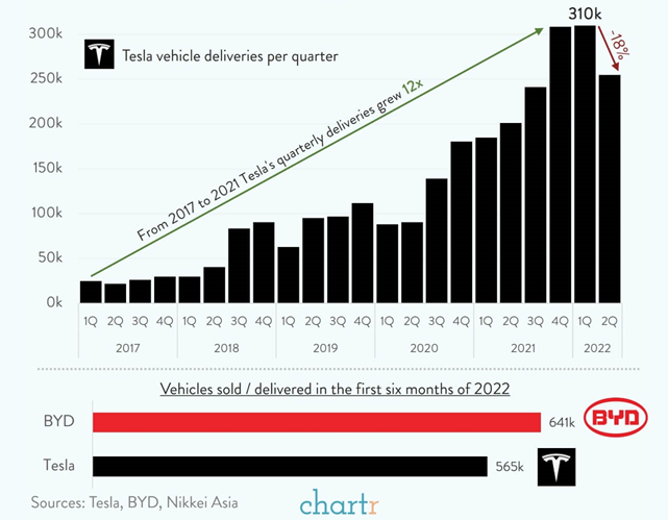 Source: DataTrek, Bloomberg, Financial Times, Chartr.